IN MEMORY OF
John Scott "Doc" Davenport
1925-2013
---
HIS BIOGRAPHY,
PUBLISHED IN 2001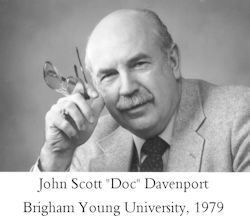 Some great researchers are made–others are born. John Scott "Doc" Davenport appears to have been born to do research, as it apparently comes as natural to him as breathing. Throughout his adult life, he has been actively involved in research, one way or another.

Born in Decatur, Illinois, on August 12, 1925, the third son of Omer Earl Davenport and Mary Margaret Baldis, he grew up in Southern California after his father, a police officer, was murdered in Decatur in 1935. In 1940, he began a newspaper career that ultimately carried him to the New York World-Telegram when as a 15-year-old, high school sophomore; he became a stringer, a freelance writer, for the Long Beach (Calif.) Press-Telegram. To the youthful combination of school and journalism, he added a military element in early September 1941 when he enlisted in the California State Guard, which was promptly federalized and called to Active Duty after Pearl Harbor on December 7, 1941. His widowed mother decided that enough was enough, told the Army that he was not 18 as he had claimed, had barely turned 16 when he had joined the 4th Regiment, and to send him home. On December 30, 1941, with an Underage Discharge, he was sent back to Long Beach and back to high school, but he was made a staff sports writer for the Press-Telegram, which had lost most of its reporters to the Draft. His last year and a half of high school was accompanied by working a 40-hour week at the newspaper. In the middle of his senior year, age 17, he was able to persuade his mother to sign off on his enlistment in the Marine Officers Candidate Program, for assignment to Navy V-12. Two days after he had his high school diploma, he was called to Active Duty, and never went back to California to live.

He began his career in Research within a year of returning from WWII in 1945, when, having began study at the University of Illinois School of Journalism within three days of his discharge from the Marines in North Carolina, he won the first Research Fellowship of the International Circulation Managers Association, a newspaper trade association centering on marketing and distribution. Following his B.S. in Publication Management, he added an M.S. in Media Research, and wrote the book Newspaper Circulation, the pioneer definitive study of factors affecting the distribution and sale of newspapers. The book was published in 1948, by which time he had become an Instructor and Media Researcher at Indiana University, and had married Dorothy Matilda Milliken, the daughter of J. Douglas Milliken and Esther Lang, of Rural Route 1, Princeton, Illinois. For a fact, Doc met Dorothy at an Illini Union Dance on a Friday evening and proposed to her the following evening. They are now in their 54th year of marriage. Four children came their way: Douglas Milliken Davenport, now of Holmdel, NJ; Alice Davenport McCarthy, of Martinsburg, WV; Margaret E. "Meg" Davenport, of Santa Fe, NM; and Geneva Milliken Davenport, of Lexington, VA. They have six grandsons, one granddaughter.

Doc went the University of Iowa after two years at Indiana to set up a media research program in what was rapidly becoming a Mass Communications milieu. There he completed a Ph.D. in 1952 in Management and Labor Economics, with minors in Marketing, Statistics and Business Law. His career thereafter was a blend of media research in Industry and research instruction in Academe. At one time or another, he was an adjunct faculty member at Miami of Ohio, Xavier University of Cincinnati and Washington & Lee, and was a full professor at Brigham Young and Kent State. He also was a weekly newspaper publisher for three years, wrote numerous articles and several books (fiction as well as nonfiction), was the guest lecturer at a dozen or more major universities. His research responsibilities as Director of Research for the Scripps Howard Concern brought him into contact with computers in the mid-1950s, resulting his being listed in the First Edition of Who's Who in Data Processing. He was the first president of the Council of Newspaper Research of the American Newspaper Publisher Association.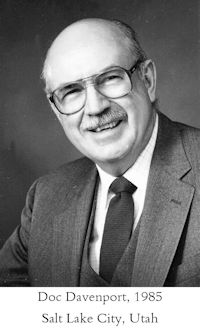 In the Spring of 1967 while yet Scripps-Howard's research director, Doc attended a church service where the sermon was on subject of identity. Taking stock of the exhortation he heard emphasizing the importance of "knowing who you are," he realized that he knew virtually nothing about himself, his ancestors or his family history. It was fire once lit that has continued to burn. He found it relatively easy to put his media research talents, skills and experience on to the challenge of Genealogy and Family History. He began by studying the surname Davenport in its broadest form, gleaning all Davenport mentions at the Cincinnati Public Library and Historical Society of Cincinnati, both of which had excellent genealogical resources. He studied and collected anything and everything he could find about Davenports, spending Saturdays and many lunch hours sweeping data into files
During this time, Doc established a dialogue by mail and personal visits with his father's only surviving sibling, Edward A. Davenport, of Macon County, Illinois. Uncle Ed gave Doc lots of family information concerning Grandfather William Asbury Davenport, a Civil War veteran, who had died when Doc was age six. Unfortunately, William Asbury did not tell the truth about his life between the time he was discharged from the Union Army in 1865 until he married Cordia Ann Parkhurst, allegedly his second wife (she was his fourth), Uncle Ed's mother, and Doc's grandmother, in 1892. Eighteen months were spent in a fruitless effort to corroborate William Asbury's tales, and then, purely on his own, Doc went off on a wild goose chase of his own making, determining that he was a Newberry Davenport before he had the evidence to support the conclusion. It was two and a half years before Doc got his lines from Illinois to Indiana to North Carolina to Spotsylvania County, Virginia, identified. Over the years, as he developed towards the Pamunkey Davenport identification, Doc found that he descended from two sons of Davis Davenport, namely Martin, Sr., of Hanover, and Thomas, Sr., of Cumberland.
Because of his wheel spinning and wild goose chases, Doc accumulated a wealth of Davenport data not directly applicable to his family and lines, two files cases full to be exact, and has often shared–when he can remember where an item could be found. His files, alas, are not computerized. Like the miners of old who loved to pan for gold, Doc loves sifting through old records, gleaning what gold dust he can, and reveling in the occasional nugget.
While doing Family History research since 1967, Doc continued his media research career, continued to teach and continued his writings. In 1968, he was honored by inclusion in American Men of Science. In 1970, he made Who's Who in the Midwest, and in 1986, Who's Who in the West. By 1975, he had accumulated enough stature in Genealogy and Family History to be importuned by other families to do their ancestries and histories. In the intervening years, he has undertaken commissions for the Pfautz-Fouts, Huber-Hoovers, Whiteheads Diamond/Dimonds and four different families of Hendrickson/Hendricks/Hendrix surnames. He has been the Family Genealogist for the Mormon Foutz Family Association since 1975, has qualified as a Certified Genealogist. Doc professes to be a joiner, but not a meetings person–has belonged to a dozen genealogical societies and a half dozen historical societies, but has never attended a meeting unless he was a speaker or a panel member. Until his move to New Jersey, he was active in the Utah Society of the Sons of the American Revolution, and is a past president of that State Society.
Doc confesses that he was a paper and pencil pusher in his research until the latter 1980s when he became a "hands-on" PC person, and became adept at using a word processor, although he still has to seek help over technological bumps in the road. While he uses Family History Centers and microfilm constantly, he enjoys on-site research and handling the original records (where still permitted) himself. On these data sorties, Dorothy, Doc's wife, goes along although she spends her time in doing sightseeing and getting to know the local folk.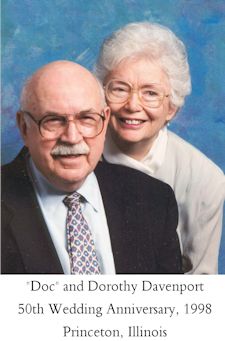 His final industry assignment before retirement was as Vice President of Research and Analysis for Bonneville International Corporation, a multi TV-Radio broadcast conglomerate headquartered in Salt Lake City. Owned by the LDS Church, Bonneville operates as a commercial broadcaster, is guided by FCC rules and guidelines. Having completed his assignment for Bonneville, Doc operated his own consultancy in media and market research in Utah and Ohio before he took retirement from Scripps-Howard in 1990.
Since retirement, Doc's research has been entirely in Family History and Genealogy areas. He worked extensively in the first half of the 1990s on the Frontier Hendricks, Albemarle Hendrickson/Hendrix, and New Jersey Hendricks. Having put off his depth Davenport research, which he labeled "Pamunkey Davenport" to define the area of research and the limits of the family, until his old age, Doc decided in 1995 that at age 70 old age was upon him. It was time to get cracking on the THE FAMILY. In 1998, assisted by several dozen Davenport descendants and friends, he compiled The Pamunkey Davenports of Colonial Virginia, which was a precursor to The Pamunkey Davenport Chronicles presented as Version A, in Working Paper Form, on this CD.
On February 8, 1998, Doc and Dorothy celebrated their 50th Wedding Anniversary. They now live in Holmdel, NJ, in a house that dates back to 1691.
"After I proposed to Dorothy the day after we met," Doc reports, "it took me three months to convince her that I wasn't crazy. Her Mother took 25 years. Her Dad died in 1985 still mulling the question."
---
HIS OBITUARY
John Scott Davenport, 87, of Charles Town, died Friday, January 11, 2013, at Jefferson Memorial Hospital. Born August 12, 1925, in Decatur, IL he was the third son of Omer Earl Davenport and Mary Margaret (Baldis) Davenport. John Scott was the last surviving member of his family. Dr. Davenport retired as Director of Corporate Research from Scripps Howard Newspapers, Cincinnati, OH in 1990 and since then has worked as a professor, and then as a devoted researcher in Family History and Genealogy. In 1998, he produced The Pamunkey Davenports of Colonial Virginia, with several dozen Davenport descendants and friends.
He was a member of the Charles Town Ward of the Church of Jesus Christ of Latter-day Saints, the Utah Society of Sons of the American Revolution, and Jackson Perks Post #71 American Legion, Charles Town.
Dr. Davenport was a graduate of the University of Illinois in journalism, the University of Indiana, and completed a Ph.D. in Management and Labor Economics from University of Iowa in 1952. At one time or another he was an adjunct faculty member at Miami of Ohio, Xavier University of Ohio, Washington & Lee University, and was full professor at Brigham Young University and Kent State. He served in the Marine Corps during WWII. He published the Bureau Valley Chief newspaper in Tiskilwa, IL for three years.
He is survived by his wife of 64 years, Dorothy Matilda Milliken Davenport of Charles Town, son Douglas Milliken Davenport and wife Esther Lee of Culleoka, TN; daughters Alice Davenport McCarthy of Martinsburg, Margaret Esther Davenport of Santa Fe, NM, and Geneva Milliken Davenport of Lexington, VA; Six grandchildren, Kevin Patrick McCarthy, Ryan Timothy McCarthy and wife Erica Patthoff, Sean Michael McCarthy and wife Erika Uribe Ocampo, Jennifer Hirsch Bolduc and husband Samuel Josiah Bolduc, Jack Bennett Davenport, Emile Davenport Hirsch; six great grandchildren, Isaac Patthoff McCarthy, Diamante Corazon Bolduc, Liam Patthoff McCarthy, Honour Veritas Bolduc, Attabey Galileo Bolduc, and Eliza Patthoff McCarthy, and many nieces and nephews.
In addition to his parents, he was preceded in death by three brothers Robert Warren Davenport, William Berton Davenport, and Richard Arden Davenport, and his sister Julieanna Davenport Binkley.
A memorial service will be held at 6 PM Wednesday, January 16, 2013 at the Charles Town Church of Jesus Christ of Latter-day Saints, 343 Carriage Drive, Harpers Ferry. Everyone is welcome to attend. In lieu of flowers and in the spirit of "God is Love", memorial contributions may be made to Southern Virginia University, Buena Vista, VA., Student Scholarships, svu.edu/giving, or contact Richard Whitehead 540-261-4347; the Autism organization " Transition to Independent Learning" through Taft College Foundation: TIL Program, 29 Emmons Park Drive, Taft, California 93268; Meals on Wheels of Jefferson County, PO Box 565, Charles Town, WV 25414 attention Patsy Morgan-Runkles.
Arrangements by Melvin T. Strider Colonial Funeral Home, Charles Town, WV
---
COMMENTS FROM A COLLEAGUE
RIP John Scott Davenport
Posted on January 16, 2013 by Judy G. Russell
"Doc" Davenport 1925-2013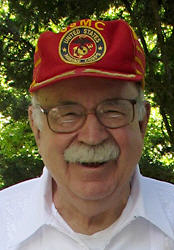 In May of 2005, The Legal Genealogist drove down to Holmdel, New Jersey, to try to get some help with research into the earliest known ancestors of the Baker family from which I descend.

My target for the trip was John Scott "Doc" Davenport, Ph.D., then a spry 80 years of age.

Doc was the Grand Old Man of genealogical research for that branch of the family that was and is known as the Pamunkey Davenports. This Davenport branch, from which we both descend, traces back to Davis Davenport, a landowner in the Pamunkey Neck region of Virginia (hence the designation "Pamunkey Davenports") in the late 17th and early 18th centuries.

We can definitively place Davis in that area from a survey made by James Taylor, surveyor of King & Queen County, Virginia, dated 29 May 1696, which identified Davis Davenport's Plantation and Landing on the Mattaponi River. We know Davis was still alive in 1704 when he was assessed on the Virginia Quit Rents roll for 200 acres. And he had died by 1735 when his son Martin mentioned in his own will that he had inherited land from his father Davis Davenport.

Doc's descent from Davis Davenport through son Martin is well-documented, both by genealogical records and by DNA. My own is more circumstantial: we have good reason to believe that the Dorothy who married Thomas Baker around 1716 in Virginia was a daughter of Martin Davenport. And I wanted to meet with Doc because he was the acknowledged expert as to the ins and outs of these Davenports — and he himself was convinced that Dorothy Baker had been Dorothy Davenport before her marriage.

So I headed off to Holmdel that bright weekend day, determined to secure Doc's help in making the case for Dorothy as a Davenport. I mean, I had an agenda. In boldface and italics. And I wasn't going to take no for an answer.

And before I left his home many hours later, I'd been snookered. Taken for a ride by this lovely gentleman. Conned into agreeing to edit what ended up as a 900-plus-page, multi-part, CD publication called The Pamunkey Davenport Papers : The Further Chronicles of the Pamunkey Davenports, a complete reworking of the family history Doc had first produced in 1998.

Over the next weeks, and months, and years, Doc and I fought over the Chronicles. We fought over some assumptions that he'd made, and some that I'd made. We fought about what to put in and what to leave out. We fought over whether there was enough evidence to connect one generation to another. We even fought about typefaces and fonts.

He thought I was silly for insisting on transcribing documents as they were written, with words misspelled and all, rather than "what they meant." As if, he sniffed, preserving those misspellings mattered. I thought he was silly for thinking that every time the DNA didn't match the paper trail, it necessarily meant Mama was playin' around. As if, I'd sniff, there'd never been an undocumented adoption or a child who took his stepfather's name.

Oh we battled. And we growled. And we occasionally snarled.

And I loved every minute of it.

To this day, I have no idea how my agenda got co-opted into Doc's agenda. And to this day and as long as I may live, I am and will be forever grateful that it was.

What I learned from Doc, about the Davenports, about the Bakers, about good genealogical research, about good writing, about life, about history, about family, and about the love cousins who first met each other on the Internet can have for each other… I couldn't begin to document all that I owe to Doc Davenport.

So it is with the heaviest of hearts that I have to report there will be no more battles with Doc in this lifetime. We got the word yesterday that we lost him last Friday, at the age of 87. His memorial service is scheduled for this evening in Harpers Ferry, West Virginia, near to where he and Dorothy, his bride of 64 years, settled to be near a daughter and her family.

I can't be there in person, but I will surely be there in spirit.

Rest in peace, John Scott Davenport (August 12, 1925 – January 11, 2013).

Genealogist.

Road crew boss and fellow traveler down the Davenport family history road.

Seventh cousin.

And friend.

SOURCES

1. "Pamunkey Neck is that long finger of land running northwest to southeast between the Pamunkey-North Anna River and the Mattaponi River, ending at their confluence to form the York River." "Who are the Pamunkey Davenports?," The Pamunkey Davenports of Colonial Virginia (http://www.pamunkeydavenport.com/ : accessed 15 Jan 2013. ↩

2. Waller Family Papers, 1667-1816, Accession #260356, Library of Virginia, Richmond. ↩

3. Louis des Cognets, Jr. (comp.), English Duplicates of Lost Virginia Records (Princeton, NJ: p.p., 1958), 149-156, 157-160, 163-171. See also Annie Laurie Wright Smith, compiler, The Quit Rents of Virginia, 1704, reprint (Baltimore, Maryland : Genealogical Publ. Co., 2004), 24. ↩

4. Rosalie Edith Davis (compiler), Hanover County Court Records, Wills, Deeds, Etc., 1733-1735 (Manchester, Mo. : p.p., 1979), 339. ↩

5. I'll get around to writing that up another day. This isn't about my Bakers today, or even about the Davenports. It's about Doc. ↩

6. John Scott Davenport, Judy G. Russell, Linda E. Davenport, The Pamunkey Davenport Papers : The Further Chronicles of the Pamunkey Davenports, CD-ROM (Charles Town, W.Va. : The Pamunkey Davenport Family Association, 2009). ↩

7. John Scott Davenport, The Pamunkey Davenports of Colonial Virginia : An Approximated Four-Generation Lineage from the Patriarch Davis Davenport of King William County (Hopkinville, KY : Pamunkey Davenport Family Association, 1998). ↩