IN MEMORY OF
Robert L. "Billy Bob" Davenport
1928-2008

Coordinator of The Pamunkey Davenport Family Association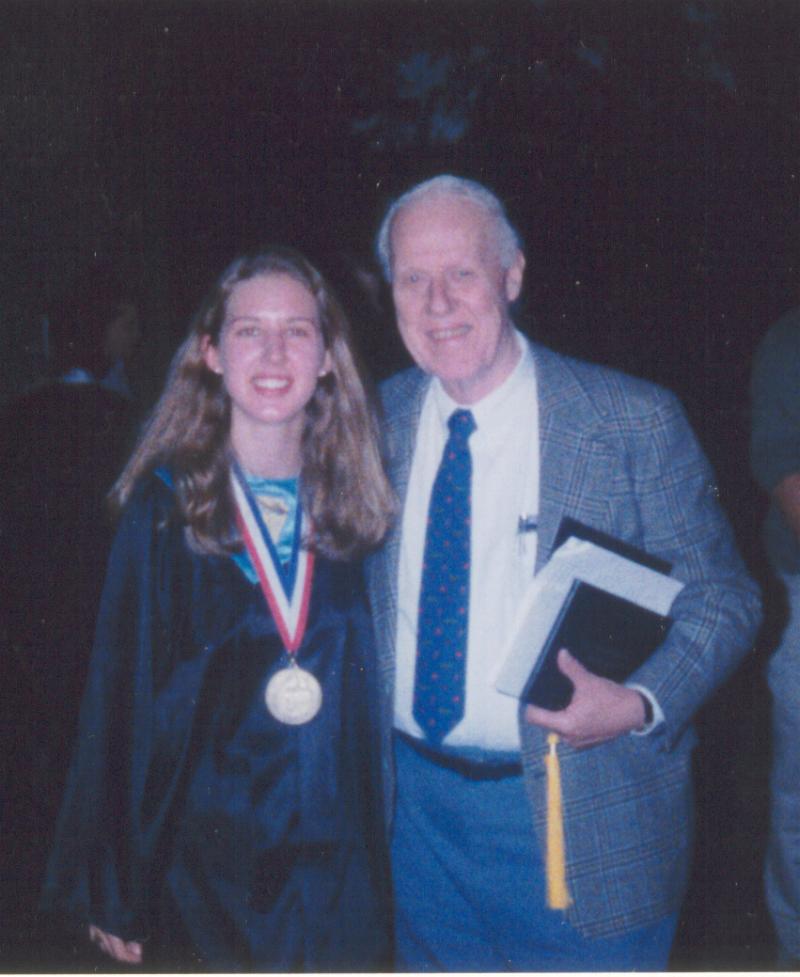 Bob and his granddaughter, Lynsey (Rowland) Peterson at her high school graduation, 1997
---
HIS BIOGRAPHY,
PUBLISHED IN 2001
From the time Robert Davenport's ancestors landed in America, all the way back to Davis Davenport in 1600's Colonial Virginia, they have been tobacco farmers, and that tradition continued for over 300 years. But because of changing times, Bob has broken with this tradition and is the first in his line to not grow and market tobacco.
Robert Lee Davenport was born October 15 1928 in Akron, Ohio, the son of Lee Thomas Davenport and Helen Williams. His family moved to Kentucky when he was young. He graduated from Hopkinsville High School in May of 1945, then left home to go out on his own. He was married the following year to Charlie Wood Smith. Bob and Charlie had 3 children: Karen Elaine (Davenport) Rua, Steven Robert Davenport and Leah Beth (Davenport) Rowland. From 1949-1957, he worked for Shell Chemical Corp. in Deer Park, Texas, then transferred to Shell Oil Company Marketing in Indianapolis Division and the Louisville District. In 1960, he moved to West Palm, Florida and opened a successful convenience grocery store. After his divorce in 1964, he went to work for B. F. Goodrich Chemical Co. in Calvert City, Ky., then went to Cocoa, Florida to work for the Bendix Field Engineering Corp. at the Kennedy Space Center as a maintenance mechanic. In 1966, he went to work for Pam American World Airways at Ascension Island, South Atlantic Ocean, leaving in 1967 to return to Bendix, the operating contractor there for NASA. He left in 1970, and after a year, was offered a job by RCA, the operating contractor fo the U.S. Navy on their AUTEC (Atlantic Underwater Test and Evaluation Center) site. He worked there until 1973, when General Electric offered him a job on the Spacetrack Network, operated for the U.S. Air Force, on Shemya Island, next to the last island in the Aleutian Islands and 1500 miles west of Anchorage, Alaska. He stayed two years as Facilities Supervisor, then five more years at the facility at Diyarbakir, Turkey.
Bob returned home to the States in 1980, and almost a year later, went to work for Consolidated Coin Caterers Corp., a Coca-Cola subsidiary, in Charlotte, N.C. After the company downsized in 1985, he moved to Jacksonville, Fla. to be near his son. He opened a lighting company that became so successful that another lighting company offered him a buyout in July 1991, so he took the offer and then retired at 63.
He had always been interested in family history but never had the time until then. His daughter-in-law had collected a lot of information by interviewing the elderly people in the family. In the fall of 1998, when John Scott "Doc" Davenport completed publication of "The Pamunkey Davenports of Colonial Virginia," Bob called to ask him a question. During the conversation, they agreed that they needed to form a family association and Doc appointed (drafted) Bob as coordinator. Bob's goal is to see as many of the Davenport cousins as possible recorded in a book up to the present time. He has over 5,000 names in his Davenport file at the present time. His line is Davis Davenport / Thomas / Stephen / William, and he is also researching the surnames Grace, Williams, McClain, Butler, Duke, Jones and Paschall.
Bob's great-great-great-grandfather, William Davenport, came to Trigg County, Ky. about 1810 and began growing tobacco. After he died, his widow and children filed for a Revolutionary War pension, but without proof of marriage in writing, the claim couldn't be processed. As a result, the widow and family began writing letters to the Pension Office to prove their claim, and today, Bob has 28 pages of those letters, outlining a large number of family connections. He thinks he may have as many as 1,000 cousins in the area around Christian County, Ky. His parents raised tobacco until 1962 when they leased their allotment out to other farmers, continuing until 1993. Bob's cousin Robert Glen Davenport lives in Christian County, Ky., and he also raised tobacco until 1996.
---
HIS OBITUARY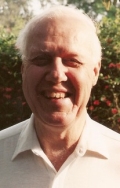 ROCK HILL, SC - Mr. Robert Lee Davenport, 79, of 1920 Ebenezer Road, passed away Tuesday, March 11, 2008, at Piedmont Medical Center.
A native of Hopkinsville, Ky., Mr. Davenport was born Oct. 15, 1928, the only son of the late Lee Thomas and Helen Williams Davenport. He was the retired owner of Long Life Lighting Company in Jacksonville, Fla. An avid genealogist, he was a coordinator of Pamunkey Davenport Family Association and a contributor to The Pamunkey Davenport Chronicles. He made lots of friends wherever he lived and across the U.S. following the Davenport Clan. He also was a member and descendant of the Sons of the American Revolution. Mr. Davenport devoted his retirement to taking care of his mother.
Mr. Davenport is survived by his son, Steven Davenport and wife, Jeanne, of Orange Park, Fla.; two daughters, Leah Rowland and husband, Donald, of McConnells, S.C., and Karen Rua and husband, Julius, of Sharon, S.C.; his former wife and dear friend, Charlie Tully of Bowling Green, Ky.; seven grandchildren, Jeffrey Rua and wife, Linda, April Isgett and husband, James, Lynsey Peterson and husband, Randy, Justin Rowland and wife, Racquel, Laura Davenport, Susan Davenport and Jennifer Davenport; and four great-grandchildren, Jeffrey Rua Jr., Carson Isgett, Gabriel Peterson and Jarred Rua. He was preceded in death by his granddaughter, Candace Ann Rua.
A memorial service will be 11 a.m. Friday, March 14, 2008, at Bethesda Presbyterian Church with the Rev. James Gable officiating.
The family will receive friends from 6 to 7:30 p.m. today at Greene Funeral Northwest Chapel, 2133 Ebenezer Road, Rock Hill, SC and in Hopkinsville, Ky on Sunday, March 16, 2008, at 2 p.m. at Maddux Fuqua Hinton Funeral Home. Burial will be 3:30 p.m. Sunday March 16, 2008, at Riverside Cemetery in Hopkinsville, Ky.
Memorials may be made to Alzheimer's Association Upstate SC Chapter, 114 East Earle St., Anderson, SC 29621-5602 or to Second Baptist Church, West 7th St., Hopkinsville, KY 42240.
---
HIS EULOGY
by Dr. John Scott Davenport
The label "Billy Bob" was made for him because there were two Robert Davenports, both Pamunkeys, in Hopkinsville when we began our ancestral quest ten years. "Billy Bob" identified Robert L. as a descendant of William Davenport, a Revolutionary War soldier who fought in the Virginia Continental Line in the North and then with George Rogers Clark in the Illinois Regiment on the Ohio-Mississippi waters. The other Hopkinsville Robert Davenport is labeled "Jack Smith Bob," he being a descendant of Richard Davenport, another Revolutionary War soldier and the brother of Jack Smith Davenport, who was mortally wounded at the Battle of Guilford Court House. Jack Smith Bob is a descendant of Jack Smith Davenport, a son of Richard Davenport and a nephew of the Guilford Court House casualty. Whatever, Billy Bob liked his new name, thought it was a good fit, and so introduced himself in Virginia during our three research trips there early in this decade.
The "Further Chronicles of the Pamunkey Davenports," a massive research report now in approaching publication stage will be dedicated to Billy Bob, for no one did more in facilitating Pamunkey Davenport research. I could not have accomplished what I did in Virginia without Billy Bob. He took care of all arrangements, handled all moneys, drove, took pictures, began as my research assistant--then undertook projects himself. By our third trip, we worked together so well that we went through court houses, the Library of Virginia, the Virginia Historical Society, and the Virginia Genealogical Society like a buzz saw in pursuit of Pamunkey Davenport data. We differed only in how we spent our evenings. Billy Bob liked to socialize--visited and jawed with the Whartons, the folks who ran the Whistle Stop B&B in Louisa, Virginia, where we headquartered. I spent the evenings organizing and summarizing the research product of the day. It was Dorry Lou's cooking, not those three coal trains going east and blowing their horns during the sleeping hours that brought us back to Louisa.
Billy Bob received and managed all Pamunkey money. Other than totals, he never rendered an accounting. If I needed research money, I told him my needs. He either sent me the money or made the designated purchase. I soon developed a sense that Billy Bob was not telling me true as to what we had left in the kitty. Typically, I would ask him how much we had left. He would reply, what do you need? I would give him the amount I needed or thought I needed. He would always reply that we had enough for that. On several occasions, I accused him of dipping into his own pocket. He would reply, "maybe so, I haven't balanced the books lately." On one occasion, back in 2000, if I recall correctly, he phoned to suggest that I go England to do Pamunkey Davenport Research at his expense. I could take my wife, he said. I declined, told him that (1) we had yet to determine that we had Davenport English roots, (2) we still had a pile of Virginia stuff to sort through, and (3) I doubted if I could get my wife to go to England and spin her wheels while I mined old records or read tombstones. We needed to go back to Virginia, I told him, and that's what we did.
I have missed Billy Bob since he wandered off into Alzheimer's, for before that onslaught he phoned me regularly either to exhort me to greater effort or suggest that we go back to Virginia to do more research. Had he done so in the past two years, I would have had to tell him that the Whartons sold the Whistle Stop B&B and moved to Spanish Fork, Utah, and Dorry Lou's cooking was no longer available.
All Pamunkey Davenports owe Billy Bob a debt of gratitude, for without him I doubt that we would be where we are today in our ancestral identification.
Rest well, Old Buddy.
Doc